The Sacrament of Reconciliation- 3rd June 2021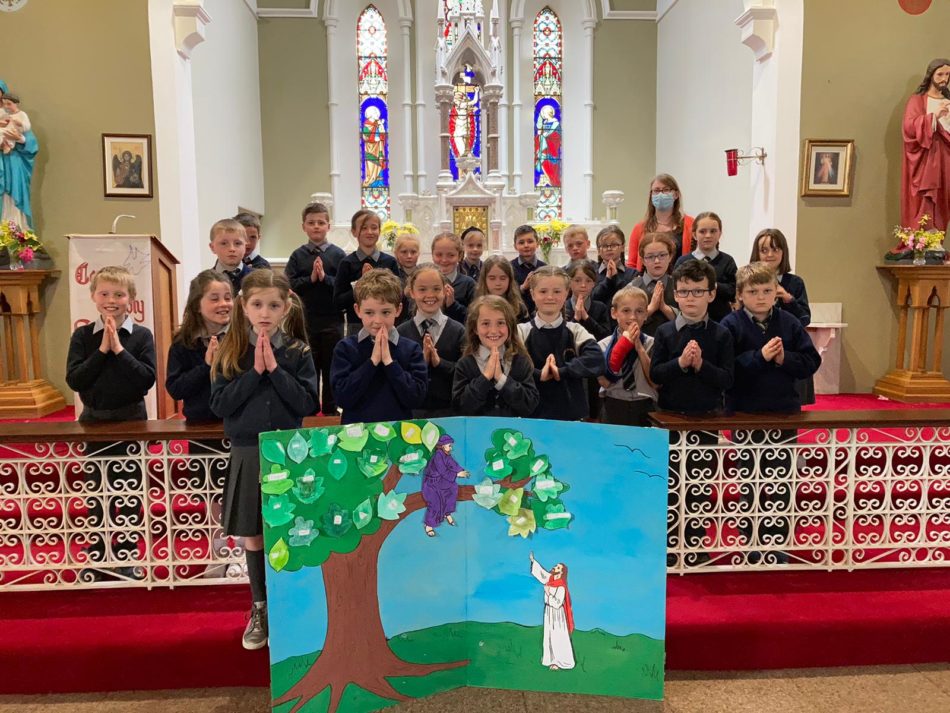 Today the boys and girls celebrated the Sacrament of Reconciliation in St. Peter's Church. It was a very special day for the children despite the current circumstances. Well done 2nd class and thank you to Ms O'Sullivan for preparing the children for this special occasion.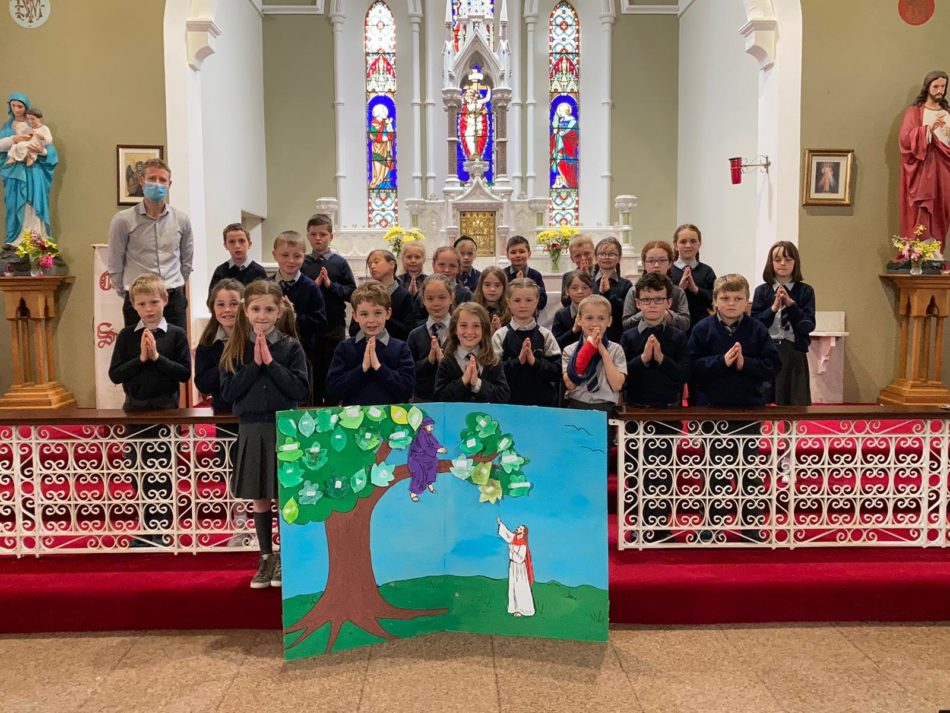 St. Vincent de Paul and Asthma Association of Ireland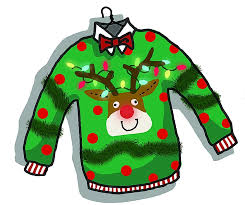 At Christmas time, we held a non-uniform day in our school. We were delighted to raise money for two very worthy causes, St. Vincent de Paul and Asthma Association of Ireland. We collected €530 in total and thank you to everyone for your support.
Fundraising for the Simon Community

On the 28th of November 2020 members of 4th class from Dungourney NS took part in a fundraiser event. 4th class did a virtual 10k sponsored cycle/walk within their local areas.This fundraiser event was for the Simon community in Cork. We did this because we wanted to help the homeless people in Cork. We raised €2,375.
Before you ignore another homeless person on the street, just remember that that could be someone's father or someone's mother and they have a story" Ayesha Mercado.
By Ben Walsh
4th Class
Virtual Assembly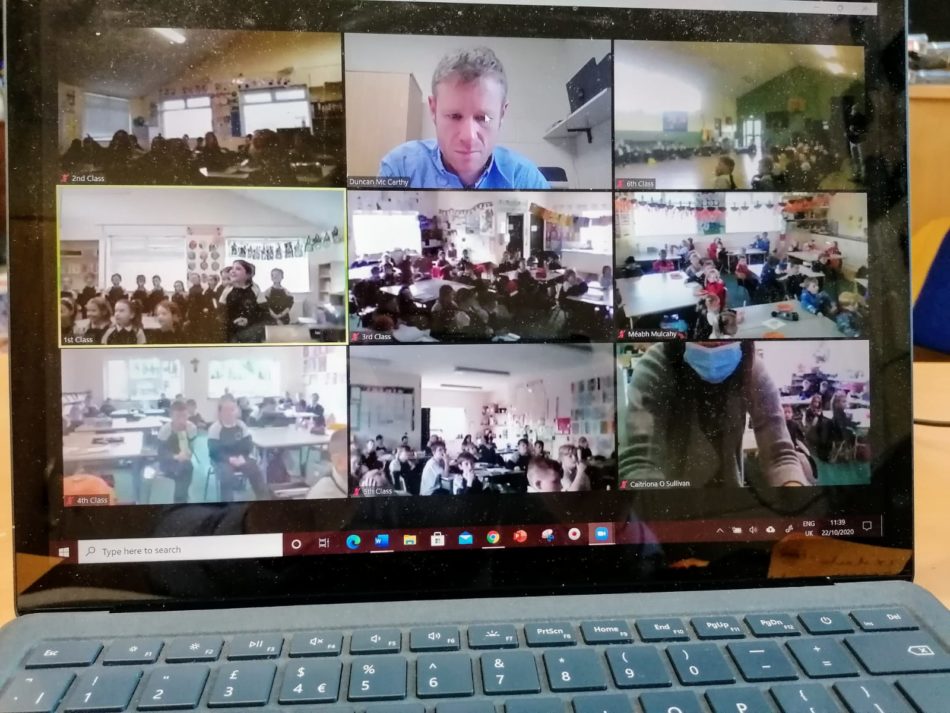 Today we had our very first virtual whole school assembly. It was a wonderful opportunity for all the boys and girls to see inside the classroom of their fellow pupils. Each class from junior infants to sixth class performed for the school. We heard some very spooky songs and poems. Well done to all involved. We are already looking forward to our next virtual assembly.
Alan Nolan Visit
We were lucky enough to have author and illustrator, Alan Nolan, virtually visit 2nd, 3rd, 4th and 5th Class on Monday, October 5th. Alan kept pupils and teachers entertained with a mixture of storytelling, drawing lessons, random animal facts and a quiz to finish. We would like to thank the Cork County Library service and Alan for coordinating this event with the school.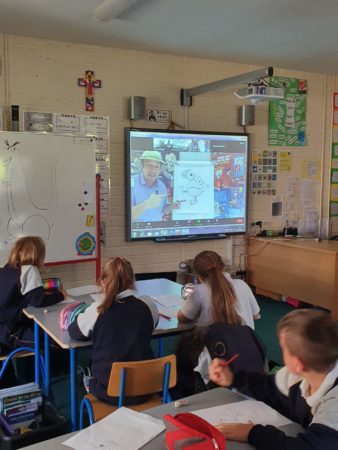 Go Red for Marymount
Mr. Healy and 6th Class raised €1,800 for a very worthy cause with their recent fundraiser. More fundraising to follow over the coming months!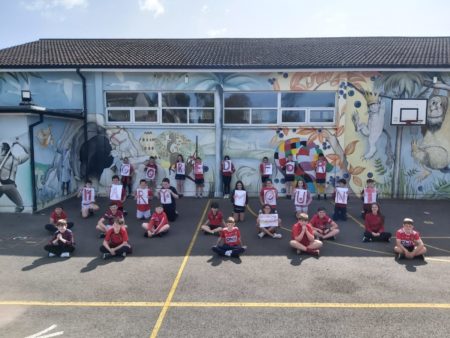 Farewell 6th Class of 2020
Although we would all love to say goodbye to you in person, unfortunately that can't happen this year.
However, the staff of Dungourney NS, past and present, would still like to wish you all the best.
Enjoy!😊
A big thank you to Mrs Comer for all her hard work in putting together this lovely clip.
Virtual Sports Week 2020
We are delighted to have had our first ever virtual sports week. A massive thanks to all the boys and girls and and their parents for partaking. Thank you to Ms Coyne and Mrs Barry for all their hard work in organising the virtual sports week. Thank you Mr Murphy for putting this wonderful video together.
Here is a clip showcasing some of the activities you got up to!😊
We hope you enjoy it!
Letter from the Bishop of Cloyne Re: First Communion
Please click on the link below to read a letter from the Bishop of Cloyne Re: the First Holy Communion Celebrations in the Autumn
>>Letter from the Bishop of Cloyne <<
Access to Primary E-books and Resources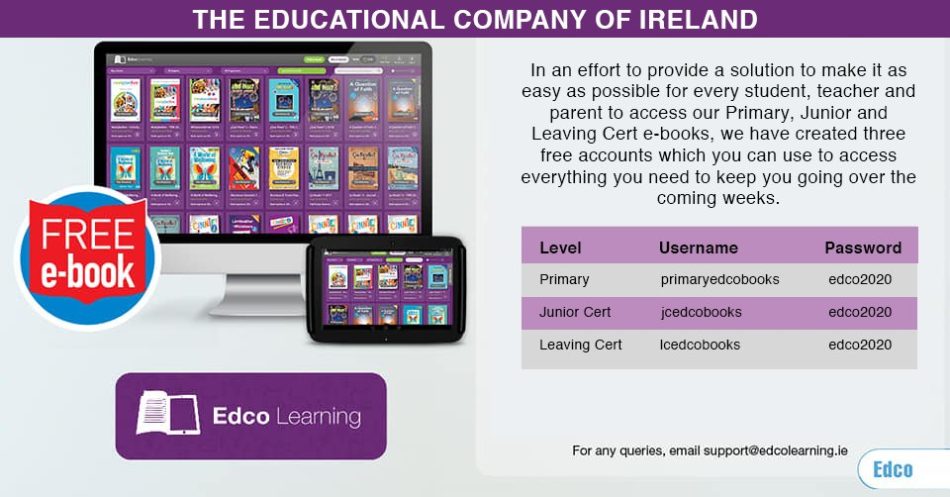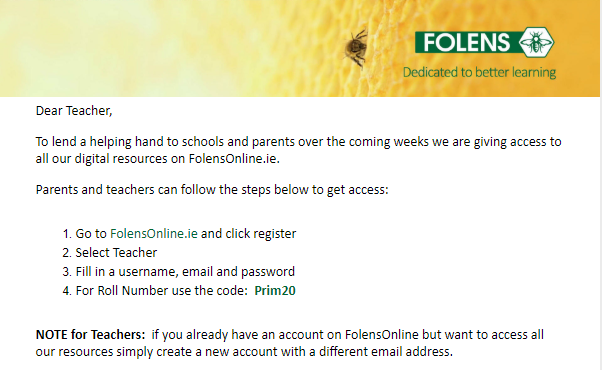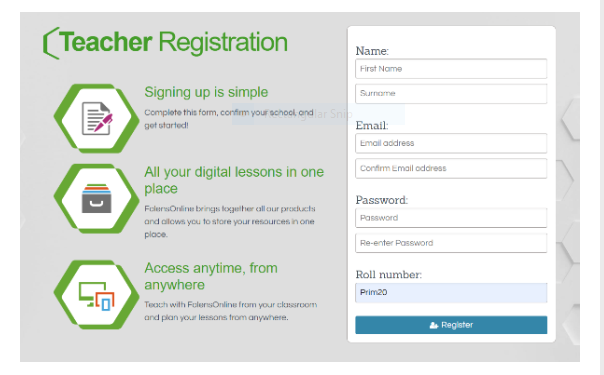 Suggested Activities during School Closure
Please find suggested activities that can be used with your children at home, during school closures. You will find these suggested activities under the 'Parent' menu on the homepage or by clicking the link above.
Covid-19 School Closure
The Taoiseach has announced that all schools will close from 6pm Thursday 12 March
I would urge all parents and children to follow the HSE guidelines and keep safe throughout this challenging time. We will keep you posted here on our website as to what measures are going to be taken going forward.
Due to the fact that we had our Curriculum Planning day today we had very little notice of this closure. Hence anyone who wishes to collect books from the school may do so up until 4pm today.
There are many wonderful websites where you can access educational materials and resources.
The most important thing at this time is to follow the HSE guidelines and keep safe. We will all get through this.
12 March, 2020 – Statement from the Department of Education and Skills
The Taoiseach has announced that these measures will take effect from 6pm Thursday 12 March
An announcement was made this morning by the Taoiseach Leo Varadkar TD of the closure from Friday 13 March, of schools, pre-schools and further and higher education settings, for a period until 29 March 2020, to support efforts to contain the spread of Covid-19. This will take effect from 6pm this evening, Thursday 12 March. This is in line with the advice of the National Public Health Emergency Team.
All pupils and students, from pre-school to third level are urged to practice social distancing, and to minimise physical contact with each other, to help avoid the spread of Covid-19. This should include minimising social contact, avoiding meeting up and keeping physical space between them. Parents and guardians are urged to support their children to maintain this approach.
In order to minimise the impact on teaching and learning all schools will be asked to continue to plan lessons and, where possible, provide online resources for students or online lessons where schools are equipped to do so. Schools are asked to be conscious of students that may not have access to online facilities and to consider this actively in their response.
Schools are asked to prioritise supporting exam classes to continue to prepare for State examinations.
Physical classes in universities and higher education facilities will not be held during the closure. Institutions can make other arrangements for teaching and learning and other activities in line with their business continuity plans and contingency planning.
Minister for Education and Skills Joe McHugh TD said:
"I am deeply conscious of the impact that school and education setting closures have on students, on families and on the wider community. This is a necessary and proportionate measure that we are taking as a pro-active measure to help contain the threat of Covid-19.
"This is the right decision at the right time. It is taken in the best interests of our children, our young people, our school and college communities and our wider society.
"At this point in time the closure is planned for two weeks, from tomorrow until 29 March. The Government, in conjunction with the public health authorities, will keep the situation under ongoing review. Any change to that date will be communicated widely.
"Pupils should take their books and learning materials home with them this evening.
"This is a very challenging time for our pupils, our teachers, our students and our colleagues in further and higher education.
"Ar scáth a chéile a mhaireann na daoine – we all live in one another's shadow. If there was ever a time for us to appreciate how closely we are connected, how much what we do maters to others, how much we rely on each other, this is it. This is a time where we all need to work together for the best possible outcome for our students. The support of everyone across the sector is vital, as we all strive to ensure that this threat is dealt with as effectively as possible."
The Department of Education and Skills will remain open and will continue to provide supports to the education sector at this time.
The Department of Education and Skills has been liaising closely on a continual basis with the Department of Health in relation to Coronavirus/Covid-19 since early January. This will continue.
ENDS
Note for editors
The Taoiseach has announced that these measures will take effect from 6pm Thursday 12 March
Co-Vid 19 -Statement from the Department of Education and Skills
The Department of Education and Skills is liaising closely with the Department of Health on a continuing basis.
Any decision to close schools will be made on public health advice. There is no such advice at this point. It is essential that any decisions regarding responses to Covid-19 are proportionate, necessary and based on specific public health advice. No other response is appropriate.
Public health professionals will contact schools if there is any action to be taken. Schools should not take unilateral action.
Schools, pre-schools and higher education settings  have been provided with advice and guidance in respect of Covid-19. There is up to date guidance for schools and parents on education.ie/covid19.
The Department is  deeply conscious of the significance of decisions concerning school closures, and the potential  impact any such decisions would have on parents, families and the wider community.
This is an evolving situation and the health advice is being updated on a daily basis. The Department of Education and Skills and Department of Health will continue to work closely together on this issue.
Engineering Week
On Friday, 6th March, a science fair was held in the hall of St Peter's N.S. Dungourney.
The theme was "Science: Construction & the Environment" and there were plenty of interesting projects and demonstrations on display.
Among the environment-themed projects of note were effects of climate change and greenhouse gasses, the importance of the rainforest, home-made computers and engines, solar, wind, light, battery and even fruit-powered vehicles and power-sources.
On the construction side, there were well-built bridges on display, multi-storey house models, magnetic objects, air-powered rockets and demonstrations were given by some pupils of the effects of gravity and falling objects.
While some projects displayed water-purification techniques, and the importance of electricity in houses, others posed exciting challenges for the pupils, and some even provided prizes for the lucky ones.
There was even a historical theme as early-Christian monastic structures and enclosures were also on display.
Well done to the children who designed, built and presented the projects, and to the teachers who facilitated the learning and demonstrations. Please see the school gallery for more photos.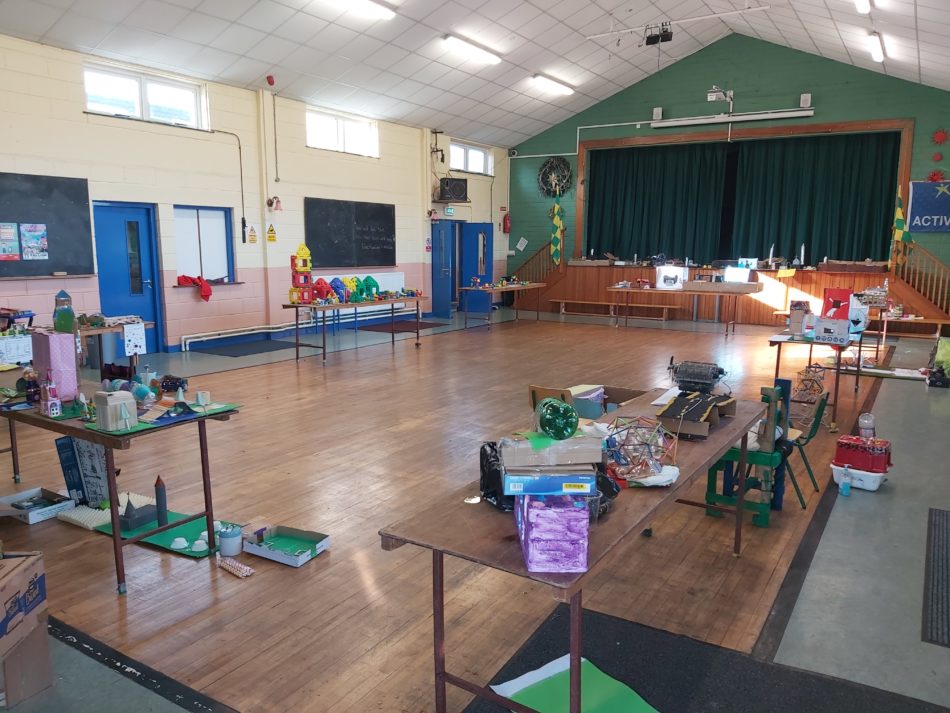 Grandparent's Day
We had a wonderful morning in the hall celebrating all the work that grandparents do, and the important role that they play in the lives of their grandchildren.
After enjoying a variety of performances from each class in our school hall, our grandparents visited the boys and girls in their classroom.
Grandparents' Day is always an exciting, enjoyable and memorable day for the children and their grandparents!
Please see the school gallery for some photos from the morning.
Aistear in Senior Infants; The Doctor's Surgery
This month the Senior Infants have been very busy working in our "Doctor's Surgery" nursing that awful winter cold everyone seems to have got!!
We are currently exploring 'The Restaurant' for our next Aistear theme.
Please see the
School Gallery
for pictures of our busy doctors and chefs in action!
6th Class and Seniors Infants Share Stories
Before Christmas the 6th class children shared some stories they had wrote on the i-Pads in class with the Senior Infants. In turn the Senior Infants sequenced pictures and wrote the story of "Little Reading Riding Hood" to read for the older boys and girls. It was great to see the two classes come together to share their stories.
(please see the school gallery for more photos)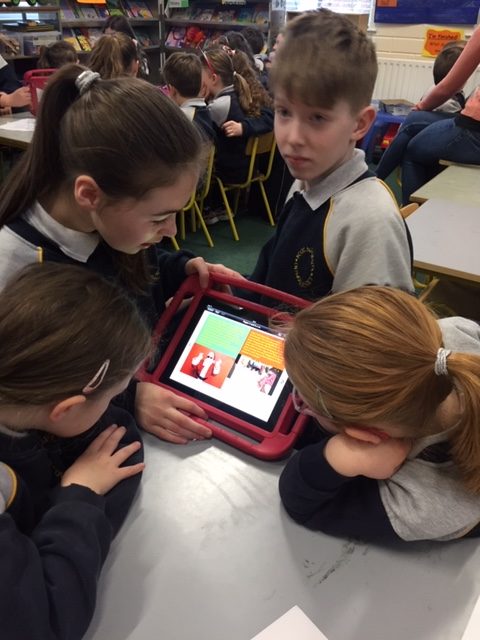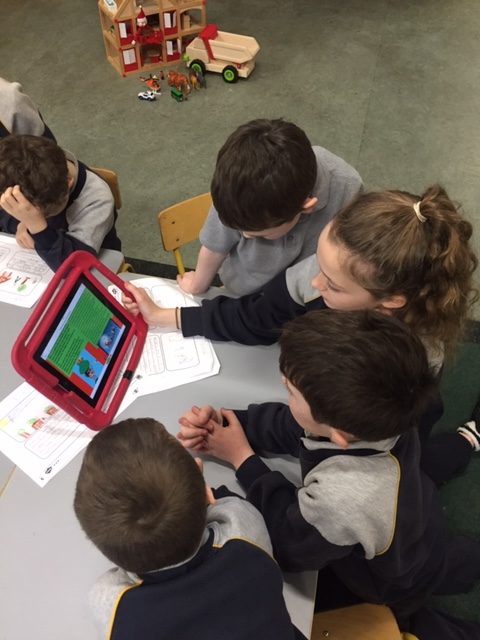 Zumba
The children from Junior Infants to 6th class are really enjoying their zumba lessons with Frank. Here are a few photos of senior infants during their zumba dance lesson on Wednesday. Next week will be our last lesson with Frank for this year.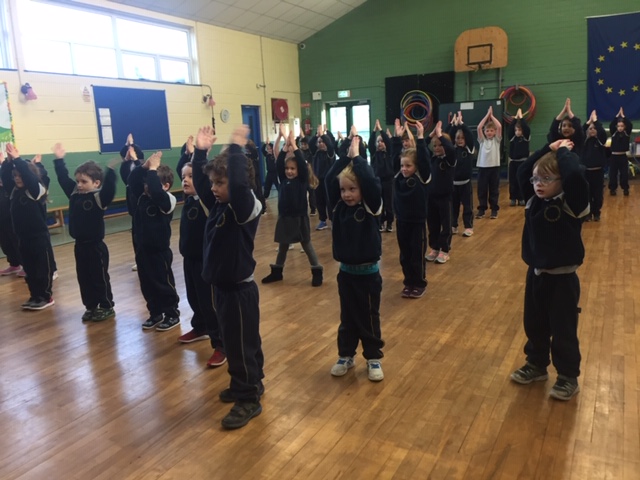 Aistear in the Junior Infant Classroom
This month Junior Infants are having great fun exploring the theme of homes and houses for Aistear. Some fantastic houses were built for their dolls by our team of builders.  They even explored 'water' as a play station for the first time.  Messy but lots of fun! (Please see the school gallery for more photographs.)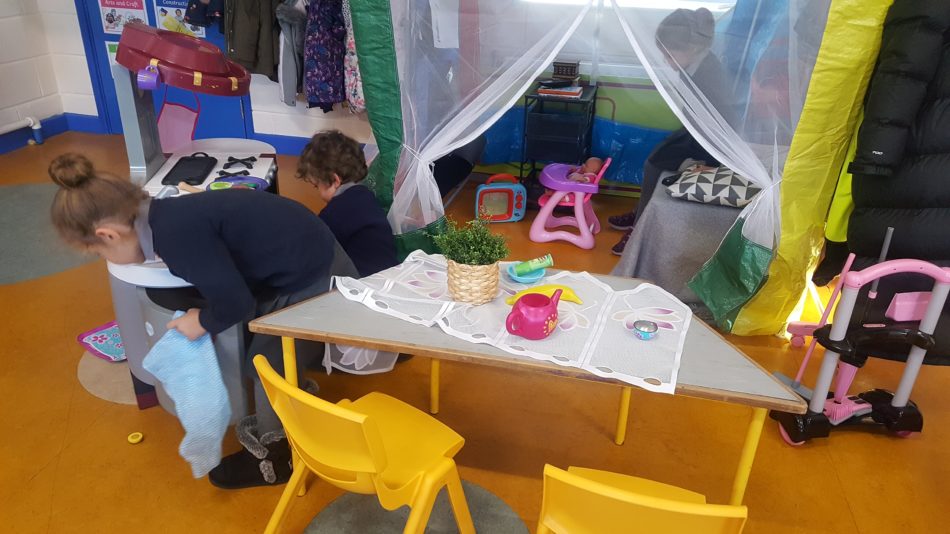 Halloween Handwriting Awards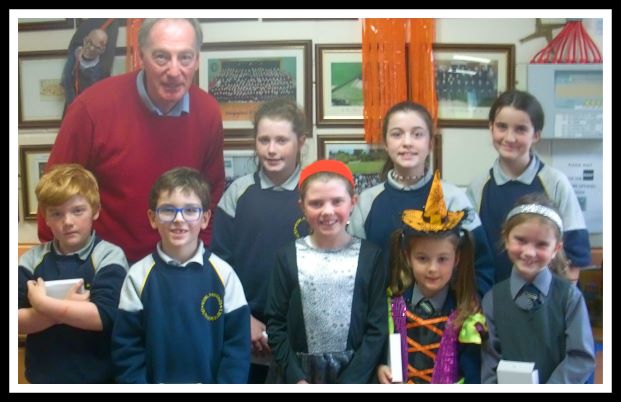 At the end of every term, the students in each class group enter a school-run handwriting competition.
For the Halloween round, the students were tasked to write a small piece in relation to Halloween. Across the school the standards were incredibly high and the winners extremely difficult to judge.
Each winner would receive an engraved plaque and recognition as top handwriters in the school.
Congratulations to Heather, Muireann, Myah, Abbey, Ben, Meabh, Tomás and Ruth who emerged as the top handwriters in the school for the Halloween term.
Maths Week 2019
Junior Infants were exploring length during maths week. They had lots of fun making long and short things. Please see our school gallery for more photos.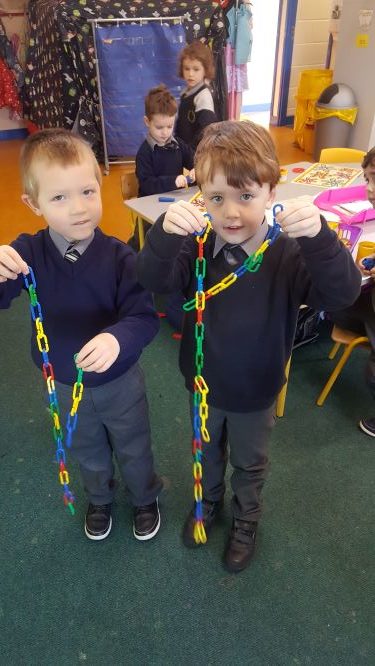 Marymount Coffee Morning
Well done to the boys and girls in 6th class who raised a very impressive €2,893.33 while hosting a coffee morning on the 20th of September, here in our school hall. Mrs Comer and her sixth class presented the check to Jacqueline Northridge who is a volunteer at Marymount Hospice. Well done to all involved and thank you Mrs Comer and her sixth class pupils for all their hard work in organising and hosting the event.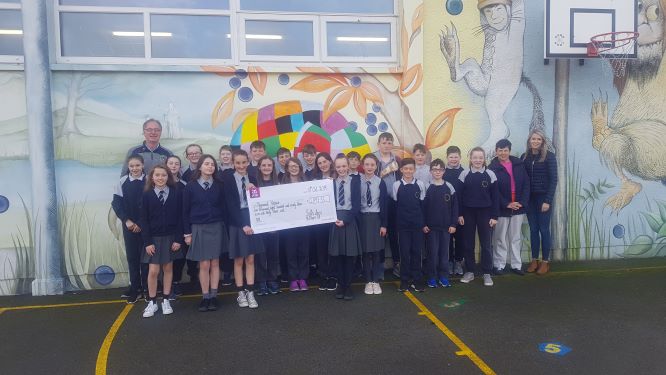 Cross Country 2019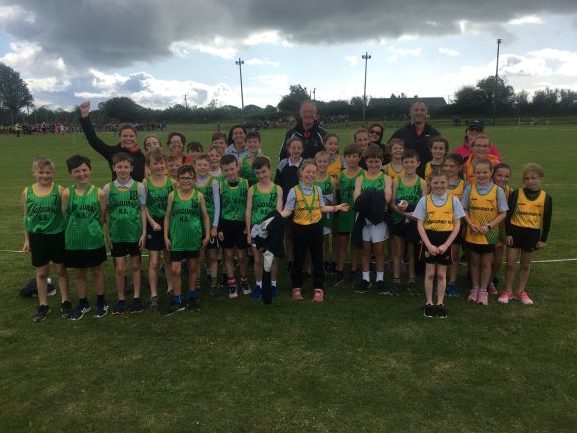 Ms O'Sullivan and her trip to Africa
We are all very proud here in St Peter's N.S. Dungourney of our current 2nd class teacher, Ms O'Sullivan. Ms O'Sullivan traveled to Eswatini, Africa again this summer. Please click on the link below to learn more about the amazing work she has done and the difference Ms O'Sullivan has made to many lives in Eswatini during her summer 2019.
https://www.echolive.ie/wow/A-Cork-teacher-tells-us-why-she-spent-six-weeks-in-Africa-this-summer-ed342291-47c2-4870-8744-9e7c423b3188-ds
Dungourney NS Céilí Band – Showcase in Ballintotis Community Hall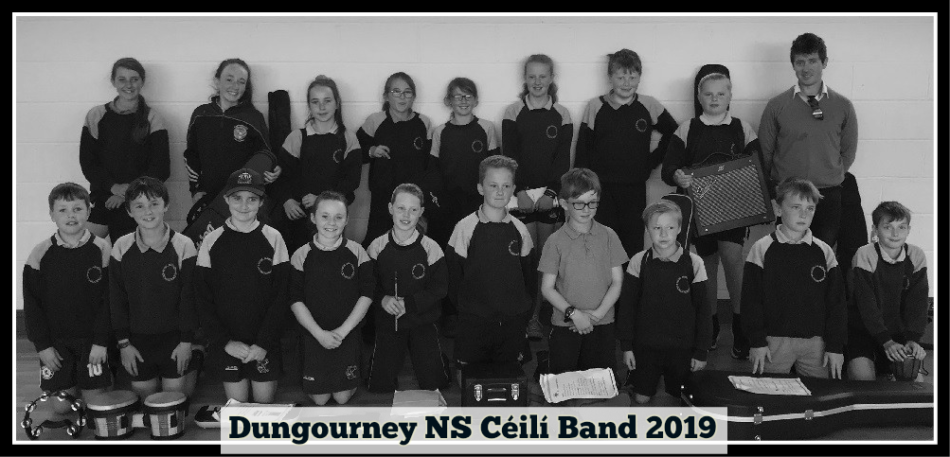 Formed in 2011, the Dungourney NS Céilí Band has gone from strength to strength, open to all musicians from 3rd-6th Class. In recent years, the band has been a staple in opening such school events as Christmas concerts, Grandparents' Days and end-of-year school masses.
In 2019, the band was invited by the staff of Ballintotis NS to partake in an afternoon of music performances in the Community Hall in Ballintotis. The idea was to showcase the musical talents of Dungourney NS and Ballintotis NS together in one location. It would be the first time the Céilí Band would perform as a music group outside of Dungourney village (having performed previously within the school, at the local 1916 monument and in the community nursing home).

Eighteen members of the Dungourney NS Céilí Band, having rehearsed their performances for several months, travelled by bus to the Ballintotis Community Hall on the 21st June 2019. They performed folk songs and rousing trad tunes for their hosts, who in turn provided a captivating display of brass, rock and pop songs, joined occasionally by the younger children of the school singing along. The event was thoroughly enjoyed by all and lasted for more than an hour before the Céilí Band returned home to Dungourney. The success of the occasion has opened the possibility of such events occurring again.

Mr Murphy, Dungourney NS Céilí Band co-ordinator, would like to thank all the band members for their dedication and commitment in keeping the band active and diverse, Ms O'Dwyer and Ms Howick for their part in preparing the musicians of Ballintotis NS, and parents, teachers and tutors of the musicians who encourage the children to practice!
Garda Visit by Donnachadh, 5th class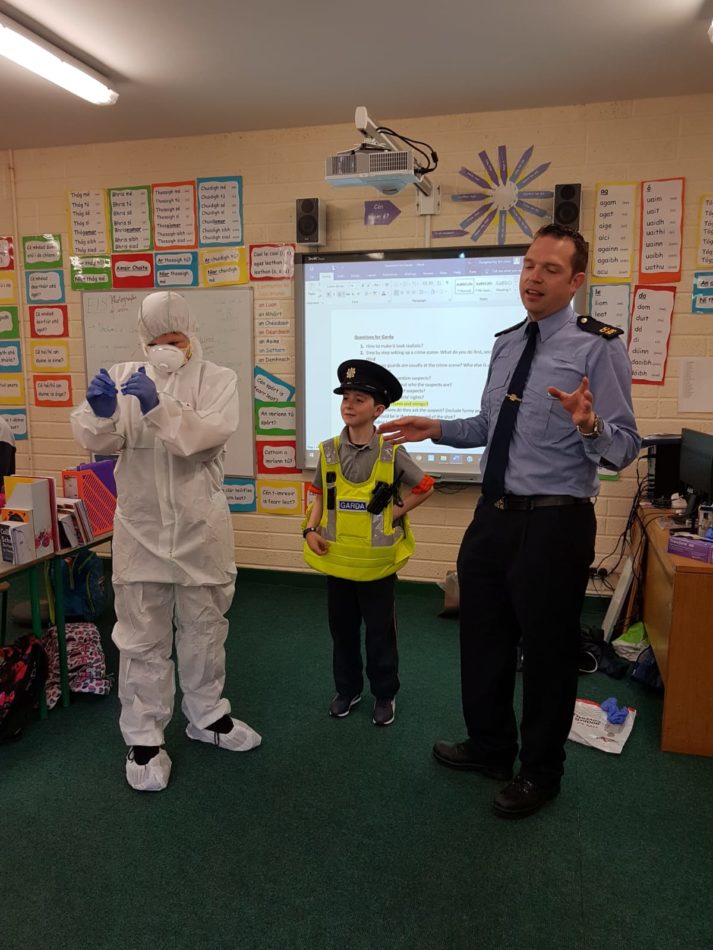 Garda Jan Haandrikman came into our classroom on Thursday 30th of May to help us with our Fís film.
At the start, he told us how to find fingerprints and said that you can get arrested at 12 years old.
Halfway through, we did a roleplay. I was the corpse, Killian was the murderer, Harry was the policeman, Robert was a forensic guy and Heather was the nosy neighbour. Unfortunately, I was brought to hospital and no one knew who the murderer was.
He showed us how to use his pepper spray and his bat and he told us he had only used his pepper spray twice in 11 years. He normally uses his bat just to break windows.
We're starting filming shortly, so watch this space!