Values Alley
Some of the 2nd class look happy exploring our values alley.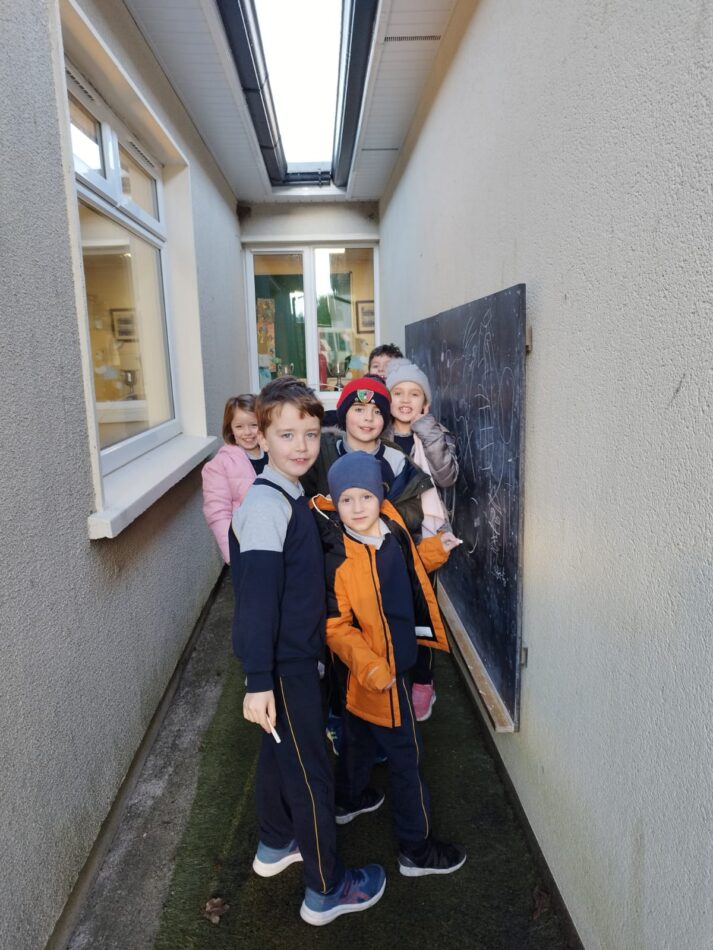 Engineering in a Box – 5th Class
Over the past few weeks an engineer has been visiting our class every Wednesday. His name is Jack and he works at JP Hegarty's. He has been teaching us all about the different types of engineering. We have learned about the world's tallest buildings and how things are made such as bridges. We have also been building things and testing things out.
Jack taught us about process engineering. An example of process engineering is growing a tomato in a field, next it goes to the factory, then it is made into ketchup, followed by bottling and packaging and finally it is sent to the supermarket where you can buy it.
Jack has also been teaching us about mechanisms and how to adapt mechanisms to make things easier. An example of a mechanism is a pully. Pully's make things like lifting heavy objects easier.
We also learned about windmills and how they work. The blades of a windmill are at different angles so the wind can move them at any angle. We have completed activities to go with everything that we have learned. For example, when we were learning about process engineering we designed and made a marble run.
We are looking forward to learning more about engineering in the next few weeks. Thanks to Jack for everything he has taught us so far.
By: Seán Padden: 5th Class
Please some pictures of some of the activities we have been doing with Jack  in our school gallery.
News from 2nd Class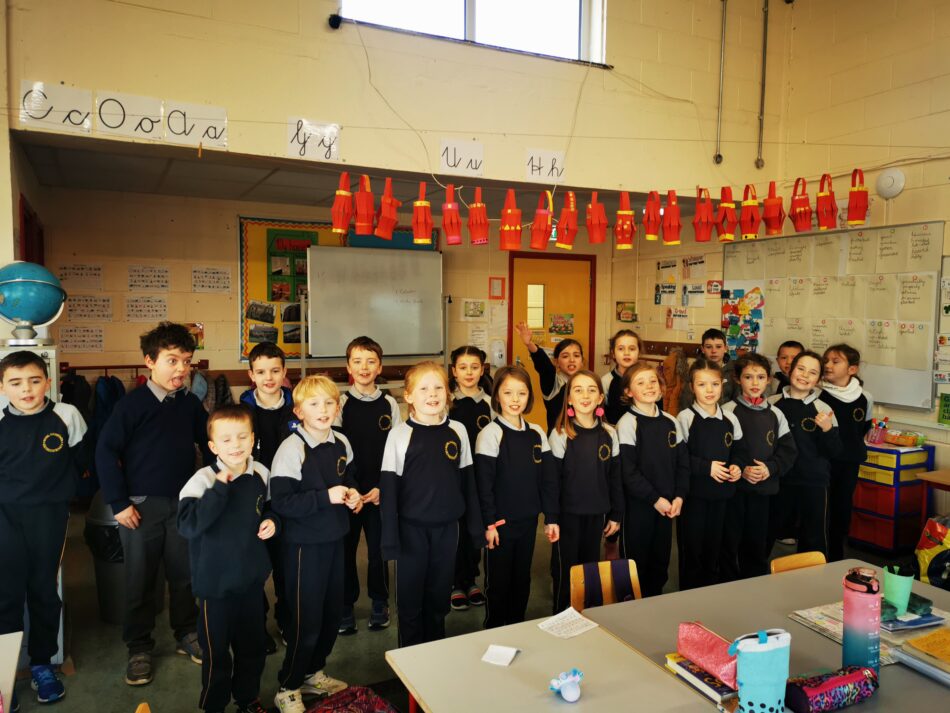 We have had a lovely first month back in 2023. We made lovely firework drawings to celebrate the start of the new year. These were great fun to make as we got to use pastels. We learned about the Chinese New year and we had great fun construting chinese lantrens.
We have also been doing athletics in P. E. It is great fun to see how fast we can run. The hurdles are also good fun as  we can see how high we can jump over them .
For grandparents day we made lovely tea light holders. We made them using clay. We hope they will love lighting their candles in them.
We have been doing lots of preparation for our First Confession. We are singing songs and learning prayers.
Here are some pictures of what what we have been up to in January.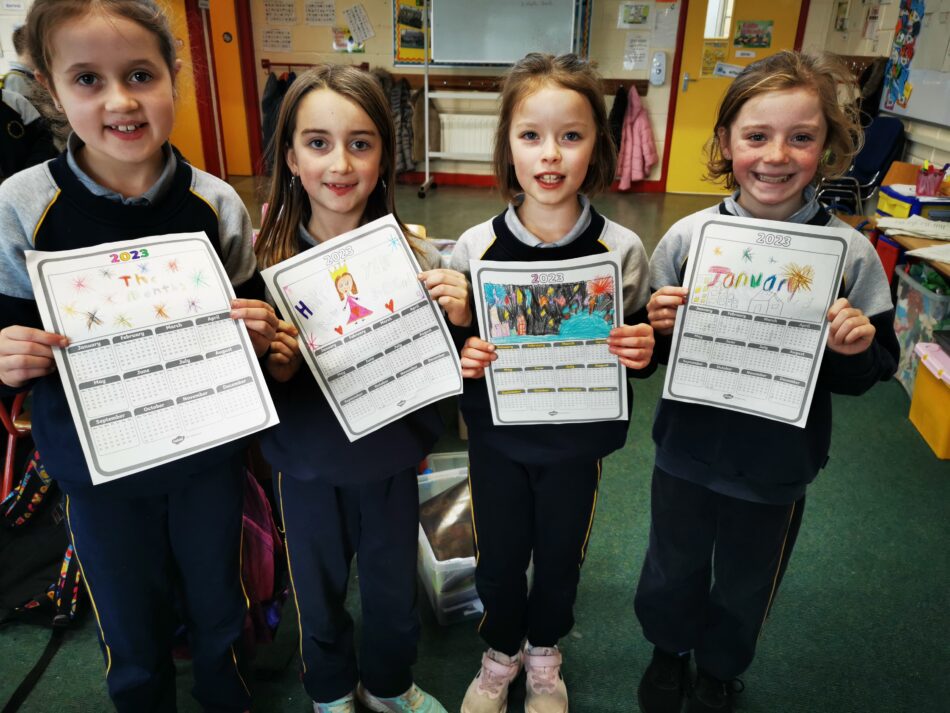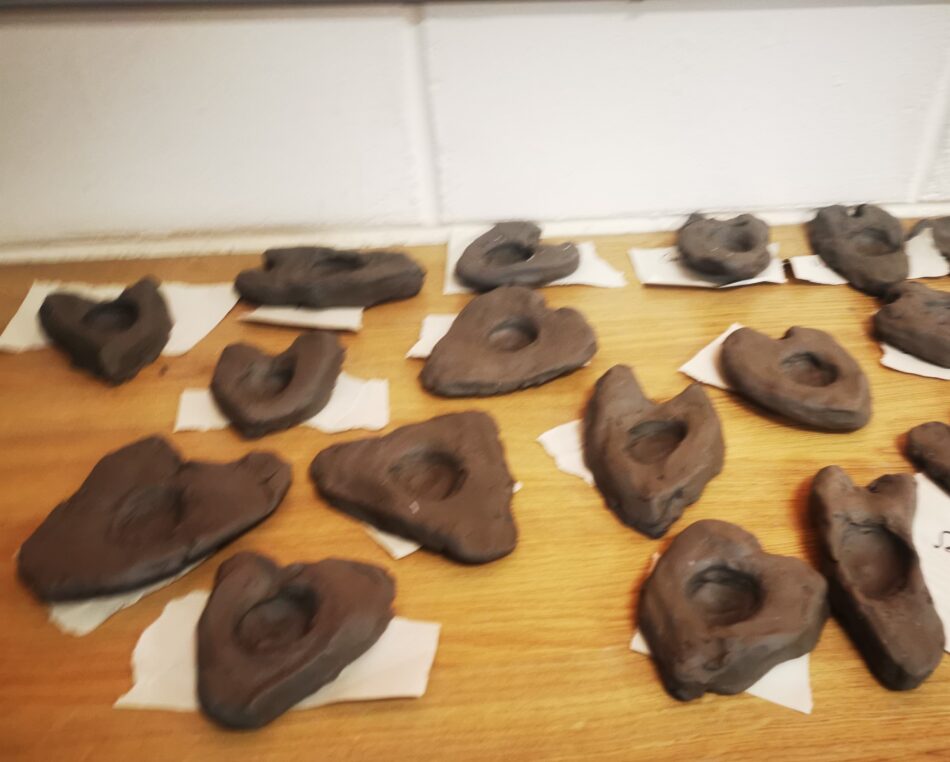 Choir Rehearsal at St. Finbarre's Cathedral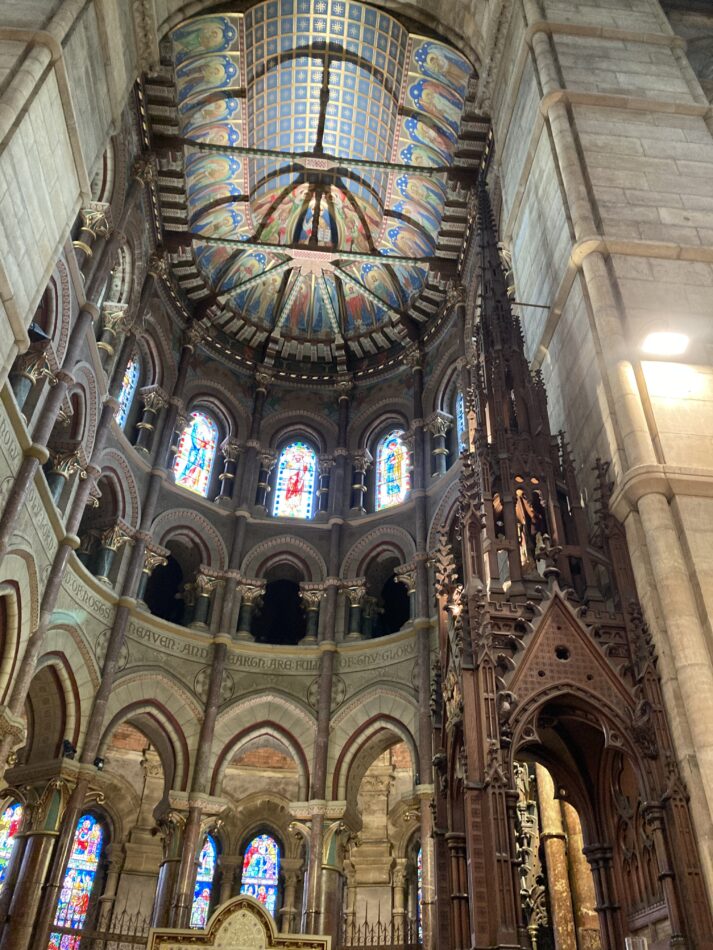 Our school choir went to their first rehearsal for the Opening Gala Concert of the Cork International Choral Festival on Thursday 26th to St. Finbarre's Cathedral. The choir met the other schools that are also taking part as well as the director, Peter Stobart. After the rehearsal we were really lucky that Peter gave us a short guided tour. He was very impressed by the genuine interest shown by the boys and girls and their extremely thoughtful questions. We are very excited about performing in the Cork City Hall on April 26th! (
please see our school gallery for more photos
)
December in Ms McCarthy's Class
We have a very busy December in our class.
Christmas was our Aistear theme for December.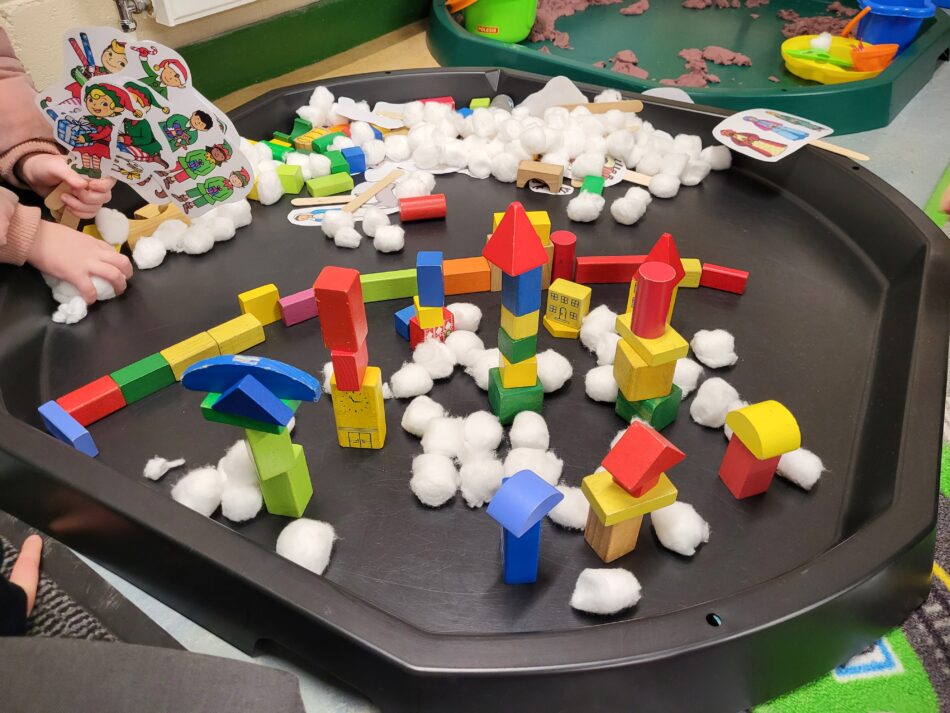 It was David's 6th birthday this month. We had a party in school. We made rice krispie buns and we ate some cake.

Junior Infants were also very busy creating and designing their classroom door and hallway.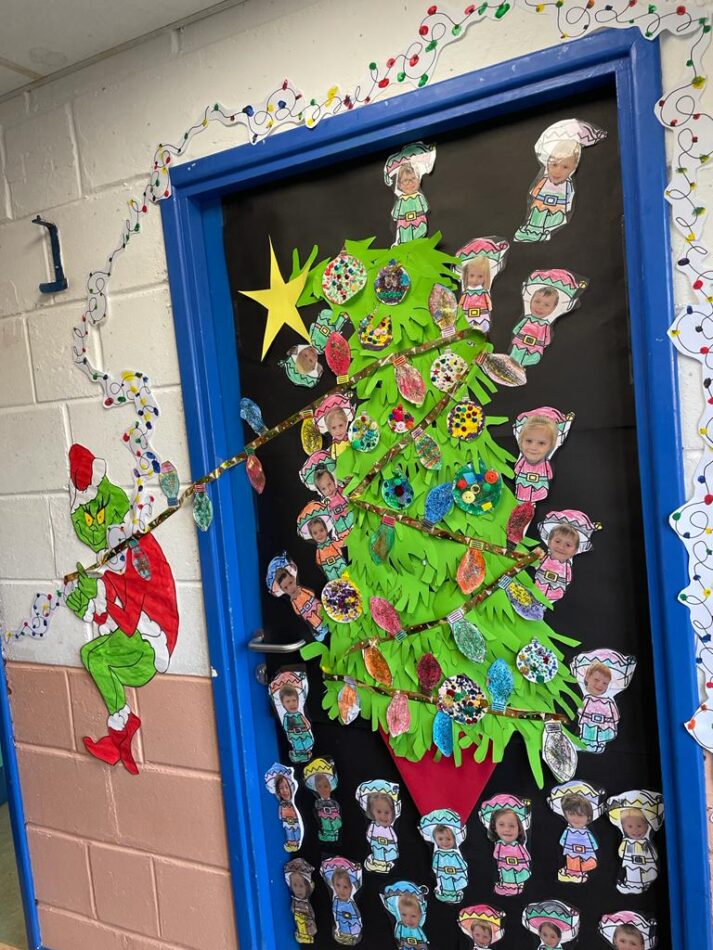 STEPS Engineering Project in 3rd Class
We completed the STEPs Engineering Project. We designed and built something that could help the local community. As part of our project we had a visit from Michal Dymet from Engineers Ireland. We presented our projects to him. We learned a lot and had fun!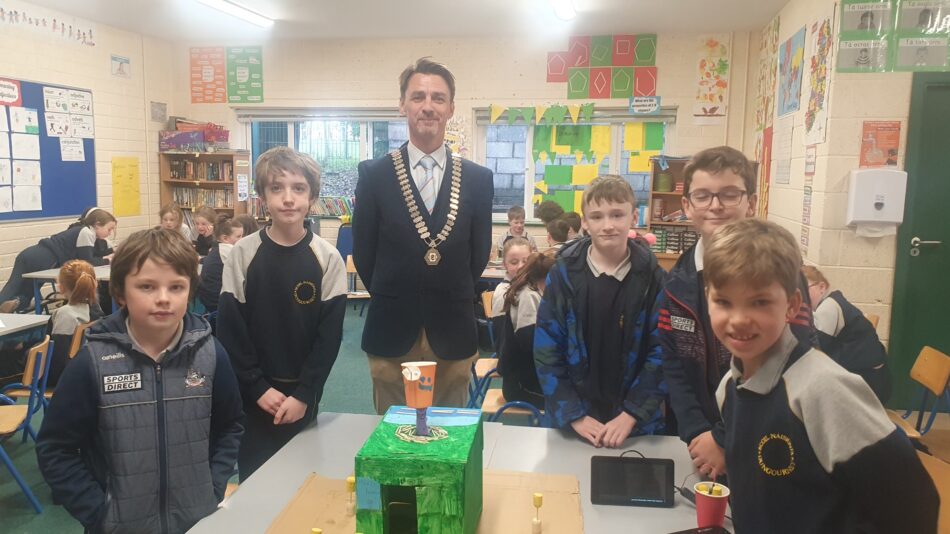 The FÍS Film Festival
The FÍS Film Festival is an annual awards ceremony, which takes place in the Helix Theatre in Dublin, that showcases the best examples of school film-making and visual story-telling in Ireland.
Dungourney NS are regular nominees in the FÍS Film Festival and have travelled to the Helix on numerous occasions in the past.
Last May, Jake from Senior Infants performed a song for the school assembly that he wrote himself, calling it "Chairs".
Jake's song was subsequently recorded and mixed, with 5th Class filming and participating in a music video for the song alongside Jake.
The resulting music video was shared across the school at the next assembly and was an instant hit. The next step was to send the video as an entry for the FÍS Film Festival '22.
Last month, it was announced that "Chairs" had been nominated for an award at the 17th FÍS Film Festival Award Ceremony '22, to be held next February in the Helix, with all participants invited to attend.
Congratulations to Jake and all the (now) 6th Class who took part, and we wish them all the best at the award ceremony.
Details of the ceremony can be found at:
www.fisfilmproject.ie
Science Week in Senior Infants
To help celebrate science week in Senior Infants all of the children took part in a few experiments. The children had a little booklet where they made predictions, tracked the experiment's progress and drew pictures of the results. They loved getting the opportunity to work together as part of a team and were very interested in all things science week.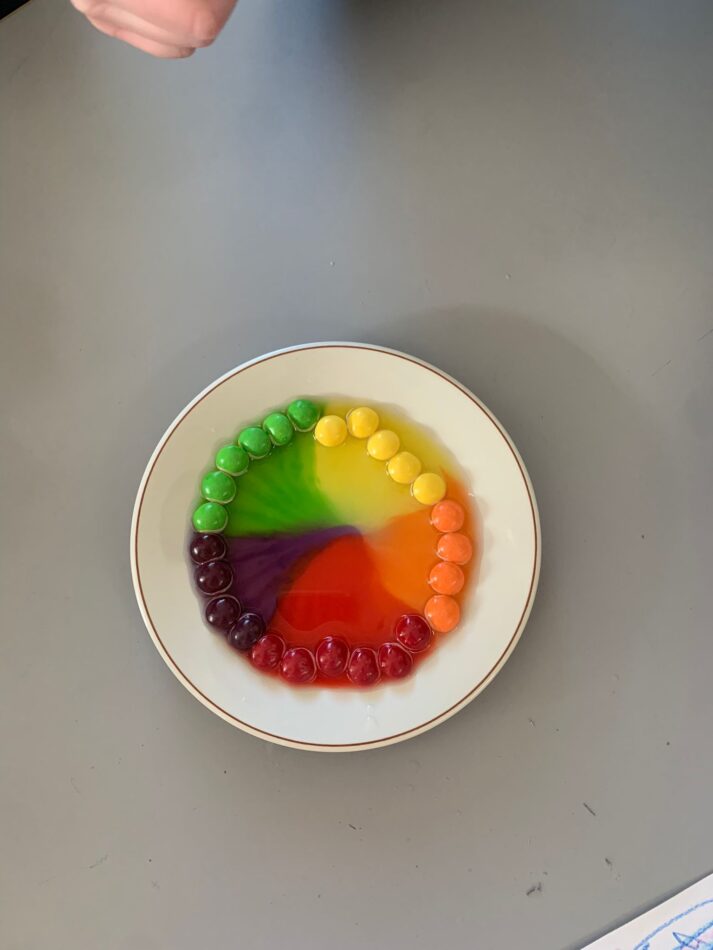 1st Class Cooking Up A Storm!
The boys and girls in 1st class have been super busy lately learning all about procedural writing. As this can be very 'hungry' work they decided to learn how to make gingerbread men by following the correct procedure/recipe. Of course no lesson would be complete without actually making them also!! A yummy treat and smiles all around to mark the start of the Christmas period! (Please see the gallery for more photos)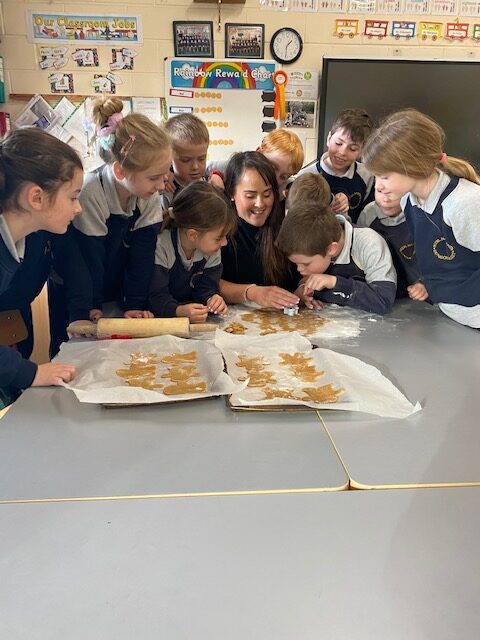 Science Week
By Fiona Loughnane
During science week this year we learnt all about science. For example, scientists, facts and much more!
My favourite part of science week was learning about George Crum. He was responsible for making the first ever crisp and has a restaurant in New York City which only sells crisps! Also, did you know that Nicola Tesla invented electric currents? These are two of the many scientists I learnt about during Science week this year.
I also learnt many new facts during science week. For example, it's impossible to sneeze with your eyes open! Also, did you know the moon can fit inside the earth nearly four times?
My favourite experiment from science week was the 'Heart Experiment'. We first found our heart beats by putting our hands on our chest or wrist. We then did different exercises, for example- jumping, skipping and walking to check if our heart beated faster or slower. We discovered that when you are more active your heart beats faster as it has to pump blood all around your body. Did you know you cannot live without a heart or else you will die.
I love science, it's one of my favourite subjects. This science week was the best week ever!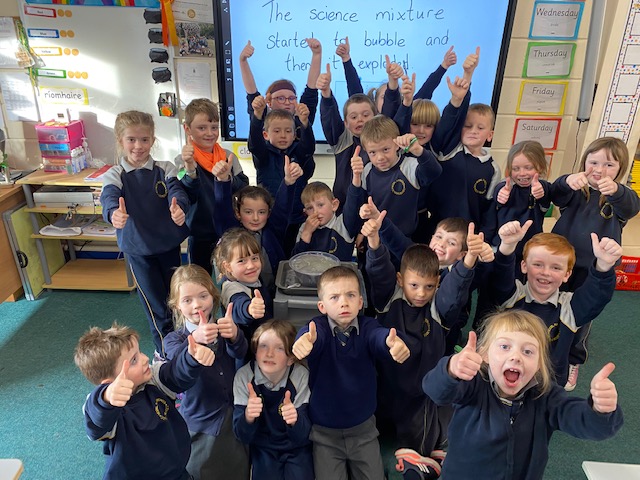 By Maria Cremin
Science week took place in our school from the 14th-18th of November this year. My favourite experiment from science week was the magic bubbling experiment. For this experiment we used many different ingredients such as- washing up liquid, vinegar, baking soda, food colouring and glitter.
Our teacher explained that the baking soda contained alkaline and the vinegar had acid in it and when you mix them together it makes carbon dioxide which caused the potion to bubble everywhere. It was so cool.
My favourite part about Science week was learning about the different scientists. We learned about Albert Einstein. He came up with amazing discoveries about light, gravity, space and time. Did you know that Alexander Fleming invented penicillin? This is an antibiotic which can be used to treat a lot of illnesses and infections. Also, Thomas Edison invented the first working light bulb and finally, Marie Curie was the first woman scientist to win the Nobel prize twice! She helped to make x-rays take better pictures.
I really loved science week this year, it was so much fun! I would love to be a scientist some day!
4th Class Camogie Blitz
The 4th class girls played in the camogie blitz against Mainistir na Corann yesterday.
It was the girl's first camogie outing this year. Ms. Coyne and Ms. Mulcahy were very impressed with all the girls taking part.  Keep up the practice!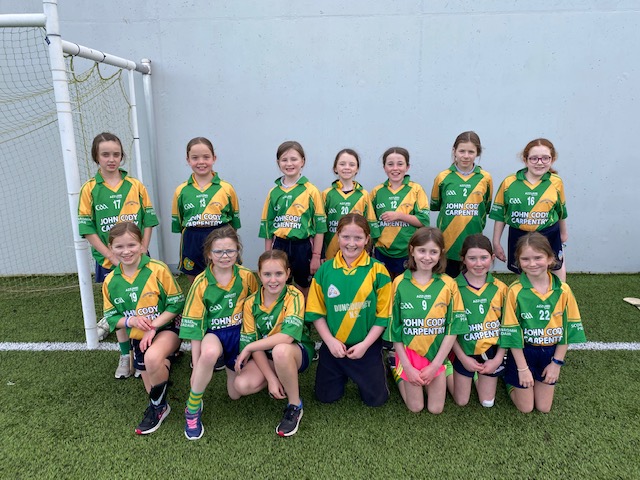 Juniors Infants and 6th Class Paired Reading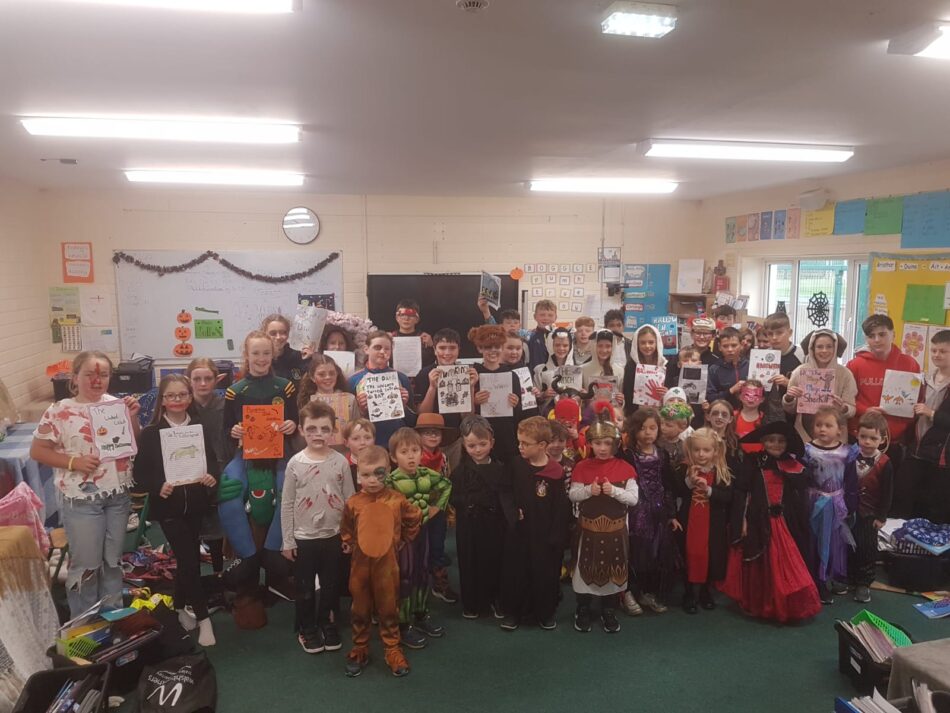 Ever since the first reading session with the junior infants, we have had great fun with them. Jack is my junior infant partner; I have seen that he is getting more confident around people and is starting to enjoy school more with each growing day. If you look closely, you can see every single junior infant more confident each day. Us as a sixth class really enjoy reading to the Junior Infants and we look forward to hearing them reading to us when they are able.
In conclusion, I think the reading /bonding that we have done in the first month is brilliant, not only for junior infants but also for us 6th class. They are becoming more confident and getting comfortable with our school and it's also great for us 6th class to learn to interact with the younger classes and to welcome and help the juniors settle into our school.
By Elijah – 6th class
Marymount Coffee Morning
On Friday the 23rd of September 2022, we held a coffee morning in our school hall at St. Peters N.S., Dungourney in aid of Marymount Hospice. It was organised by 6th class.
First, we sent out invitations a couple of days before and then we put up posters around the school advertising the coffee morning. On the day before, 6th class were busy preparing. We had to get the ingredients and go baking. Some of the sweet things we made were cupcakes, cookies, mars bar squares and banana bread. In the morning we first set up the hall. We had to set up the tables and chairs. We put table cloths on the tables and set up the children's play area. Everybody in the class got a job to do. Some children were out doing the traffic, others were serving cakes, some were looking after the children in the play area, others were welcoming people and more were giving out the tea and coffee. The place looked great. We were surprised with the amount of people that came. Very quickly the hall was full. My job was serving the cakes. We were all so busy that the morning flew. Before long everybody was gone.
When we got back to the classroom, we had to count up the money to see how much we had raised. As a result of people's generosity, we raised €3773.50 and we hope to get more donations in the next couple of weeks.
I really enjoyed being part of the coffee morning and I am very proud of the amount of money our school and community have raised for Marymount Hospice.
By Ava Wallace – 6th Class
Virtual Assembly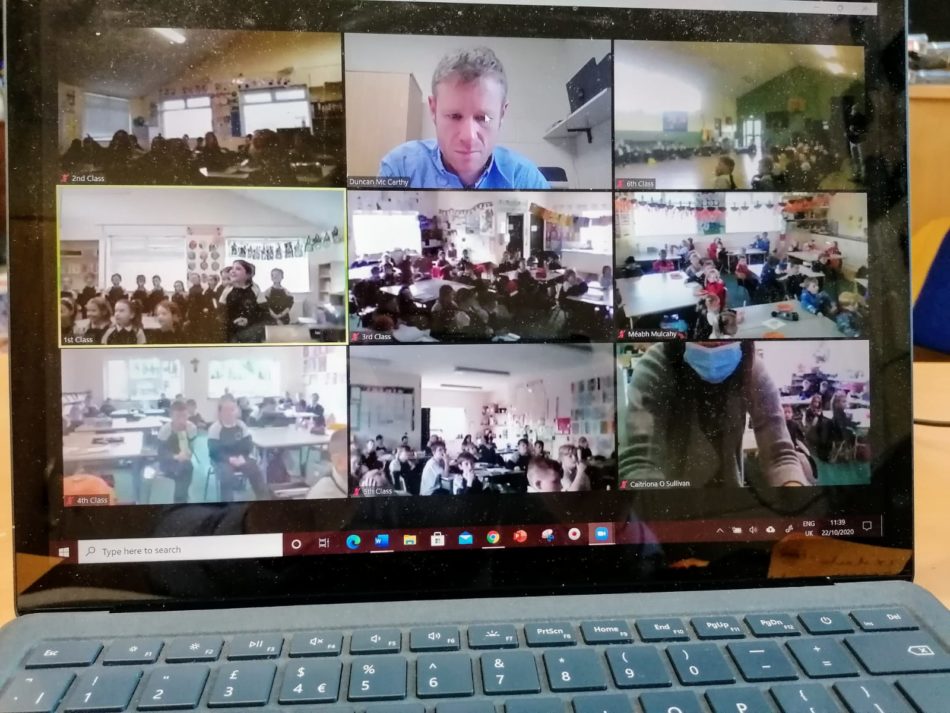 Today we had our very first virtual whole school assembly. It was a wonderful opportunity for all the boys and girls to see inside the classroom of their fellow pupils. Each class from junior infants to sixth class performed for the school. We heard some very spooky songs and poems. Well done to all involved. We are already looking forward to our next virtual assembly.
Alan Nolan Visit
We were lucky enough to have author and illustrator, Alan Nolan, virtually visit 2nd, 3rd, 4th and 5th Class on Monday, October 5th. Alan kept pupils and teachers entertained with a mixture of storytelling, drawing lessons, random animal facts and a quiz to finish. We would like to thank the Cork County Library service and Alan for coordinating this event with the school.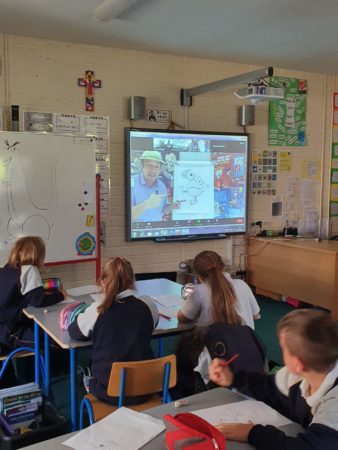 Farewell 6th Class of 2020
Although we would all love to say goodbye to you in person, unfortunately that can't happen this year.
However, the staff of Dungourney NS, past and present, would still like to wish you all the best.
Enjoy!
A big thank you to Mrs Comer for all her hard work in putting together this lovely clip.
Virtual Sports Week 2020
We are delighted to have had our first ever virtual sports week. A massive thanks to all the boys and girls and and their parents for partaking. Thank you to Ms Coyne and Mrs Barry for all their hard work in organising the virtual sports week. Thank you Mr Murphy for putting this wonderful video together.
Here is a clip showcasing some of the activities you got up to!
We hope you enjoy it!